Glossy paint and country-style furnishings make a 19th-century interior an affair to remember.
When Gail Landry bought her 1870s farmhouse in Buxton, Maine, three years ago, it had been in the same family for nearly a century. Given the outdated paper on the walls, linoleum "area rugs" on the floor and fussy sheers on the windows, it looked like it had been that long since it was decorated too.
Landry wanted the home to serve as a personal retreat and as an event center she could rent out for weddings, so an update was definitely in order. For assistance she called on interior designers David Nastasi and Kate Vail of Nastasi Vail Design in Brooklyn, New York.
This Couple Got a Perfectly Intimate Backyard Wedding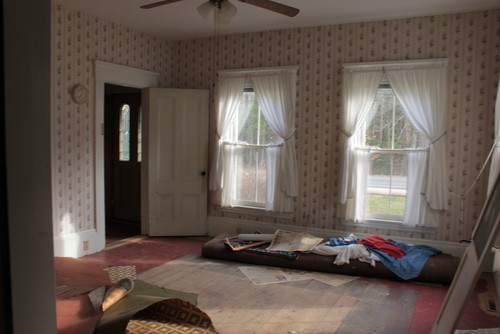 Landry needed a dining room spacious enough for wedding rehearsal dinners, so the designers combined the old front parlor with a rear room that was being used as a storeroom and handicap-accessible bathroom.
The house wasn't insulated, so Nastasi and Vail tore out the lath and plaster walls (and the old newspapers that were stuffed inside), added insulation and installed new drywall.
AFTER: The wall between the rooms was replaced with beams that distribute the weight of the second floor onto pilasters at either end. The newly joined rooms seat 24 comfortably, and the tables can be split and rotated 90 degrees for more intimate gatherings.
The designers covered the ceiling with beadboard, which had been used elsewhere in the home, and painted it a glossy pale gray (Farrow & Ball's Dimity) to match the walls and trim. A slightly paler shade was used on the high-gloss floors, reflecting light and giving the space a sophisticated sheen.
A cerused oak china cabinet from Zentique flanks a custom-painted table from Sarreid; the chairs are from Sarreid too.
The pale gray palette has a welcome cool feel on warm summer days, "but it's a neat room in the winter because of the snow outside," Nastasi says.
The glossy ceiling multiplies the light from the chandeliers and reflects candles on the table at night, filling the room with a romantic glow.
Chandeliers: Visual Comfort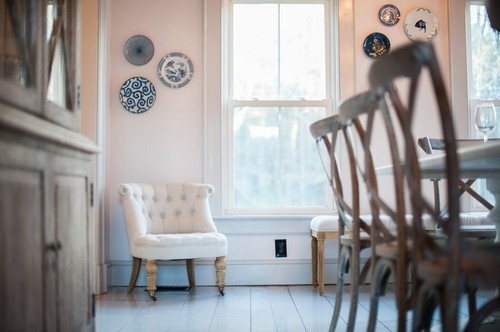 The designers removed the trim from both rooms because it didn't match, and replaced the tall Victorian baseboards and fussy door surrounds with casework that felt more modest, in keeping with the home's style and proportions. "We actually humbled the moldings a little bit," says Nastasi.
Corner chairs: Zentique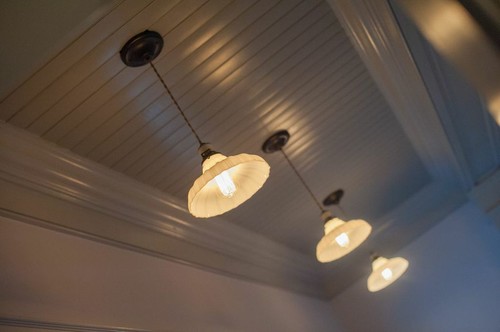 Pendant lights from Schoolhouse Electric illuminate the back of the room. Says Nastasi, "I like the idea that you can see the history of the house in the decoration."