Southern coastal Maine is home to the quintessential New England town of Kennebunk, where barns and countryside are located just up the road from lobster shacks and saltwater. Scott and Karen Benezra bought a piece of land here for themselves and their two kids, complete with an antique barn and farmhouse on the verge of being torn down. Instead of letting them go entirely to waste, the Benezras hired architect Caleb Johnson to deconstruct the structures, saving the timber rafters, ties and beams to create two new structures within the same footprint.
Caleb Johnson Architects + Builders, original photo on Houzz
Who lives here: Scott and Karen Benezra and their sons, Emmett (age 9) and Orie (6)
Location: Kennebunk, Maine
Architect: Caleb Johnson of Caleb Johnson Architect + Builders
The new home consists of two main structures, just like the former farmhouse, linked by a modern glass entry, which bears no historical reference. "It's a reinterpretation, but we used that early-19th-century farm to very drastically inform a new kind of farmhouse," Johnson says.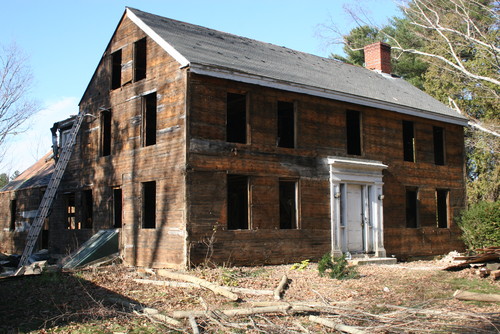 BEFORE: Here's a look at the stripped-down original farmhouse. All the saved timber was repurposed in the new home, appearing in everything from flooring to doors throughout.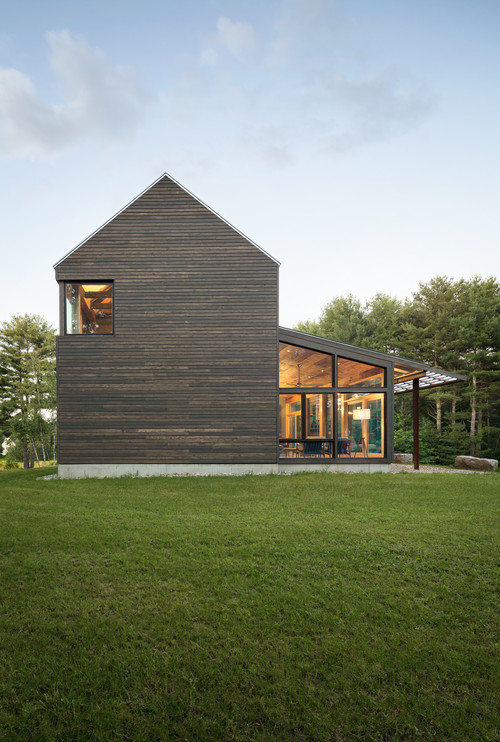 AFTER: While all of the original wood got repurposed, new material was needed for siding. The Benezras mixed in new eastern white cedar, which architect Johnson prefers for its "special profile," which makes it more interesting and easier to blend in with vintage materials.
Galvalume was used for the roofing and sunshade, which help regulate the temperature by season. The overhang blocks sun in the summer and lets it in during the colder months to help warm the concrete slab foundation.
Light and air fill the modern entry passage. To create a "transparent quality," Johnson says, he sought out a local metalworker to rethink the traditional cable railing system, which typically comes with a lot of hardware. "Rather than using thousands of dollars and dozens of hardware pieces, we used a tension mechanism to crimp the cables," he says.
To fill the gaps between the wood plank risers (and to meet code) they added simple steel staples.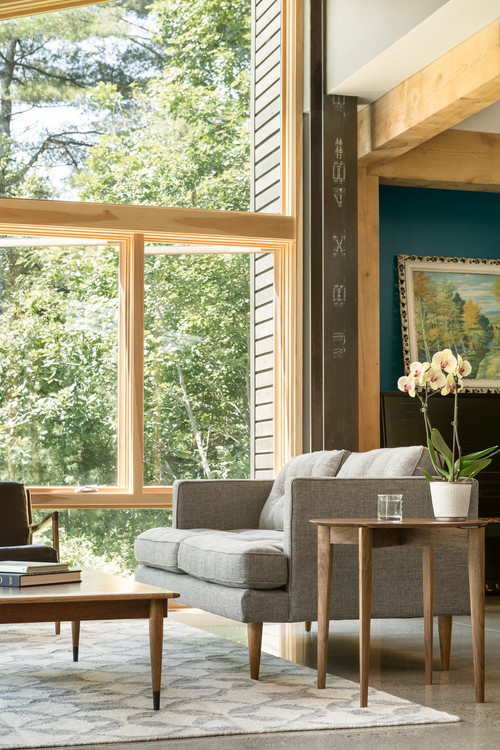 Raw-steel support columns were left exposed, showing off the stamping from the steel mill, to enhance the industrial look. "Here is a broad span of materials — 200-year-old floorboards making up the ceiling, still bearing the marks of the original craftsman; polished concrete floors; exposed steel structure; and salvaged midcentury modern furniture," Scott says. "It all comes together and feels like it was meant to be."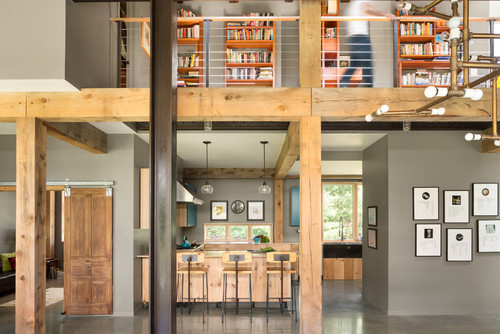 The main level shows the homeowners' appreciation for raw materials, which are simple and affordable. They left the reclaimed wood unfinished (saving the time and money of staining), and it mixes easily with the raw steel and polished concrete. "We knew from the beginning of the process that we were going to have to be creative if we were going to achieve the level of detail we wanted within our budget constraints," Scott says. "Using reclaimed materials seemed like a natural way to stretch our dollar."
Barn Wood Gives a New England Home Some Rustic Charm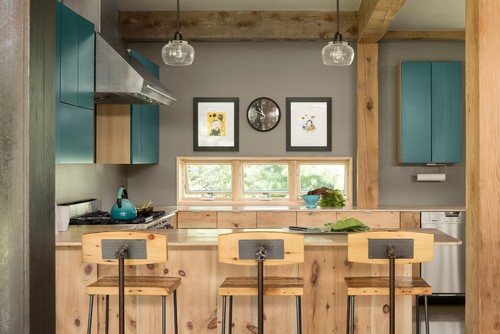 "Caleb thought I was joking when we got to the kitchen budget, but I figured I would give it a shot on my own," Scott says. After feeling uninspired by cabinetry ideas and discouraged with costs, he configured the cabinetry himself, starting with basic Ikea cabinets and refacing them with recycled pine from the original barn. "We kept it very simple and let the antique wood speak for itself," he says. While they thought it might have been a temporary solution, they fell in love with both the look and the price (about $4,000), and have decided to keep it.
Update Kitchen Cabinets on a Budget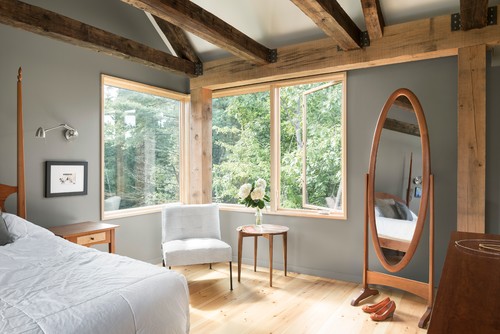 In the master bedroom, exposed rafters mimic the former barn's construction, while picture windows capture large swaths of the surrounding forest. "It's exactly how they used to build barns — leaving everything exposed," Johnson says.
Wall paint: Chelsea Gray, Benjamin Moore
For their master bathroom, the Benezras drove to Connecticut to buy a Kohler Birthday bathtub from a tradesman who had taken it out of a remodel. "It had been in the guest bathroom of someone's second home and probably had water in it twice," Scott says.
Scott hit every local sale and Craigslist post he could. One day he answered an ad for a Sub-Zero refrigerator and ended up buying the salvage rights to an entire house of materials in Weston, Massachusetts, through a nonprofit organization called greenGoat, which specializes in salvaging materials from homes being renovated or demolished.
From this he and Karen got virtually all their plumbing fixtures, electrical fixtures, kitchen appliances (both the Sub-Zero fridge and Miele dishwasher were both still under warranty) and bathroom fixtures.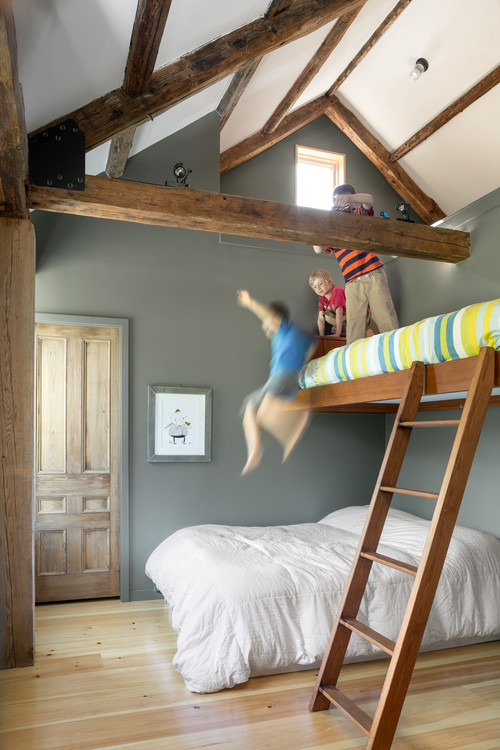 In Orie's room, the bunk also came from the Weston home sale. Johnson anchored it to the walls so the room wouldn't need support columns, which would have interfered with the design. The loft playspace has a small window and a secret passageway.
The Benezras spent about $225 per square foot, while most of Johnson's clients spend closer to $350 per square foot for a similar level of detail. "This really was a study in affordable design," Johnson says.